FOUNDRY AND CASTING PLANTS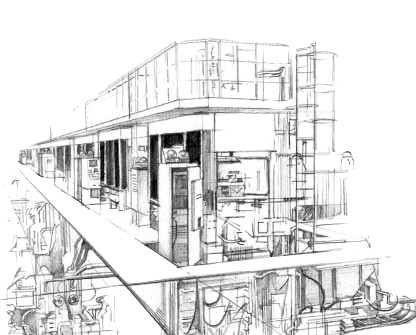 Leading manufacturer of low pressure die casting machines
Japan's automotive industry is one of the largest and best in the world.
That development has been helped along with the support of ISUZU casting technologies.

As a leading manufacturer of low pressure die casting machines, we deliver a wide variety of manufacturing facilities to customers in Japan and overseas.

Casting quality often relies heavily on the experiences and hunches of its workers.
We have been engaging steadily in fundamental research in this field.
By utilizing our accumulated expertise, we have been continually commercializing production machines that meet the needs of our customers. We have also introduced automated pressurization controls and intelligent systems to the field of low pressure die casting.

We are equipped to handle various casting methods: low pressure die casting, gravity casting, centrifugal casting, and super-precision lost-wax casting. We deliver a wide range of products, from large-scale plants to individual peripheral devices.
This ability to adapt to different needs is what makes our casting plants unique.